Feb. 26th, 2017
08:00 pm

yhlee
My website now has a section for
Appearances
; the one that's up there is a reading/signing at Borderlands in San Francisco on April 15 at 3 p.m. It would be lovely if anyone who's not my sister showed up. XD I may even make hexarchate cartoon handouts for people who show up; we'll see!
Meanwhile, I have taken up tatting!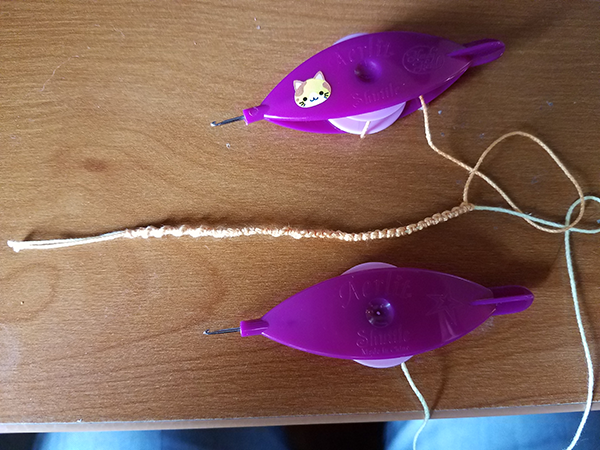 So the weird twisty helix-looking part of the beginning of the strand is because I had forgotten that you have to do two half-hitches in opposite directions to get a tatting double stitch. Then the light dawned (I'm slow, okay?) and the straight-cable-looking section is where I figured it out and practiced that for a while. It's hard to see in the photo, but I'm using two different colors of thread (yellow and orange, both colors I hate [1] so I don't mind using up lots of it making ugly practice tatting, I'm weird) so that I can tell what the working thread is.
[1] My favorite color is black. Which reminds me, I need to write up The LEGO Batman Movie, which Joe and I saw together.
I was introduced to tatting by

lshelby
, who generously set me up with basic supplies and some instructions. I struggled with it for a while (to master the double stitch, you have to figure out how to "flip" a loop, which is apparently the big stumbling block when most people try to learn tatting) then set it aside. The kit didn't survive the flood but I remembered how intriguing it was (also, she sent me the most GORGEOUS tatted dragon pendant, which also didn't survive the flood, and I want to make some of my own! she has the
pattern online
), and it's cheaper than knitting. Tatting thread is, like, basically thread, so it's much cheaper than fancy yarn. (Also I divorced knitting because I can't knit lace to save my soul.)
I use two shuttles to do tatting, although there are other ways. I picked Aerlit shuttles because they seem to be reasonably well thought of and were reasonably priced [2]; some people like the tiny crochet hooks for unpicking stitches gone wrong, some people hate them for catching in thread. I don't have a strong opinion yet. There's also a kind of tatting you do with needles, but I don't know how that works at all.
Also, the shuttle doesn't come with a cat sticker on it, I just stuck it on for decoration and to help me tell the two shuttles apart (because you have a working thread and a non-working thread). The smart thing to have done would have been to buy shuttles in two different colors but I didn't think of that. Whoops!
[2] You can even make your own tatting shuttles out of cardboard or plastic. But at a few bucks apiece I figured I'd rather have the kind with a bobbin. There are super fancy shuttles carved of the bone of unicorns or whatever the hell, but I'm not making that kind of investment in a new hobby I don't even know yet if I'll stick with it.
ETA:
Tatted Treasures
has a lot of great tutorial videos and posts on shuttle tatting, if you're interested.
ETA #2: Tatting the double stitch would have made so much more sense so much earlier if people had explained it to me in terms of KNOT THEORY.